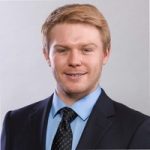 The 2021-22 lineup of UNICOM Talks gets underway October 19 when Iowa State University aerospace engineering alumnus Kyle Suther will be the guest presenter, 4:00 p.m., Lee Lui Auditorium, Howe Hall.

Suther is currently a Program Manager at Collins Aerospace in the Advanced Military Avionics and Helicopters organization. He graduated from Iowa State in 2015 with a B.S. in aerospace engineering and a minor in physics. He worked as a platform systems engineer at Collins within the rotary wing business from 2015-2020, with his last engineering role being the lead for the Army CH-47F program.
UNICOM Talks are sponsored by the Department of Aerospace Engineering's Make To Innovate (M:2:I) program and are open to all at Iowa State University and the public.