Students have access to 3D printers and a CNC machine to rapidly prototype their designs.  Equipment is used by submitting a job request with the appropriate information.  Lab technicians will then fabricate the parts.  There is no labor costs to any team that is in M:2:I.  Materials costs do apply.
3D Printers
The lab has access to 4 3D printers, 2 Mojo printers, an Objet 260 printer and the newest printer, a FormLabs Form 2.  All printers require that students submit a job request and the only file accepted is a STL file type.  The following is the specifications on each printer.
Mojo
12.7×12.7×12.7 cm (5″x5″x5″) print volume
White ABSPlus plastic
Soluble support material
.178mm (.007 inch) layer thickness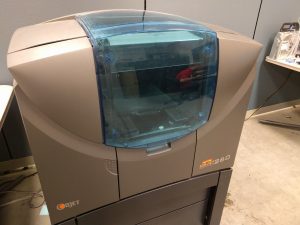 Connex Object 260
25.5×25.2×20.0 cm (10″x9.9″x7.9″) print volume
Multiple materials, usually VeroWhite (White ABS Plastic) and TangoBlack (Flexible material) are available
Materials can be mixed to produce different shades of gray/flexibility
Support material must be mechanically removed (does not dissolve)
Typical layer thickness is 30 microns, can do 16 microns in High Quality mode
Accuracy is 200 microns or better (usually 5-20 microns)
Formlabs Form 2
145

×

145

×

175

mm (

5.7

×

5.7

×

6.9

in) print volume

Laser spot – 140 microns
Axis resolution as low as 25 microns
Clear, ABS, Flexible and castable materials available.
Please see the Formlabs website which has an excellent guide on minimums for printing on this printer.
CNC Machine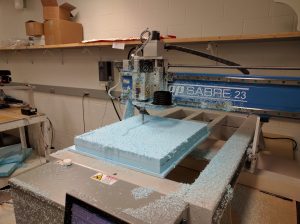 CNC Machine
The Shop Sabre 23 is available for students to use to for cutting foam, wood, and particle boards.  Metal working is currently not allowed on this CNC.  Students need to submit a job request for this machine.  Solidworks files may be submitted but will require extra time as our technicians must post-process those files to G-code.  DXF files are recommended for simple 2D cutting.  The Shop Sabre has the following specifications.
3 axis (X,Y,Z) CNC
3.25 HP Router
Cut Area – 25″x36″x5″
Resolution – .005 inches
Cutting speed (max) – 350 IPM