The electronics workbench allows for students to assemble and test circuit boards.  The workbench is designed to reduce static discharge and allow for students to solder and use the test equipment.  The workbench has the following equipment available to students.
Soldering equipment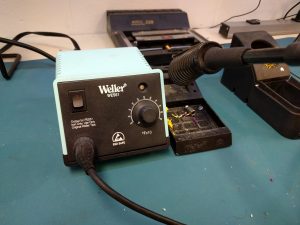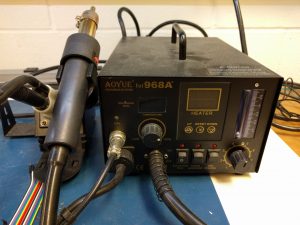 The lab is equipped with 3 soldering stations.  Two stations have Weller WES51 and one station has an Aoyue 968A soldering station and hot air re-work.  The lab also owns a Weller re-work station that has a solder vacuum for removing old solder.  All stations have ant-static pads, brass sponges for cleaning the tip and fume extractors.  Students wishing to use the solder station must be checked out and approved before using.
Power Supplies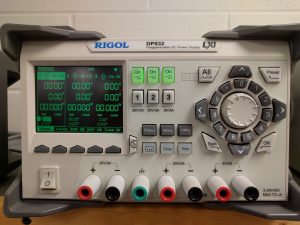 The lab has several power supplies including:
Rigol DP832, 3 outputs 0-30VDC, 3A on each port
Extech 0-30 VDC, 0-20 Amps power supply
Older 0-30 VDC up to 5A power supplies
Oscilloscopes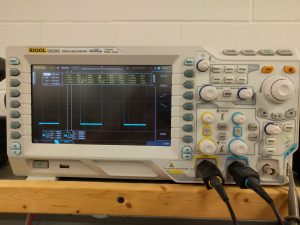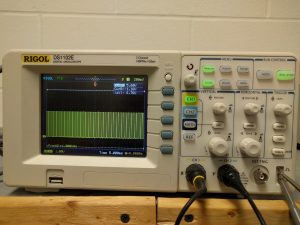 The lab has 3 bench oscilloscopes, A Rigol DS2202 and two Rigol DS1102E.  They have the following specifications:
Rigol DS2202 DSO
2 channel input
200 MHz, 2GSa/s
14 Mpts memory
Rigol 1102E
2 channel input
100 MHz, 1 GSa/s
16 kpts memory
Spectrum Analyzer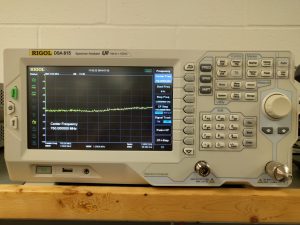 The Lab has 1 spectrum analyzer that can be used for RF and high frequency diagnostic.
Rigol DSA 815
9 kHz to 1.5 GHz spectrum analyzer
1.5 GHz tracking generator
RBW – 100 Hz to 1 MHz
VBW – 1 Hz to 3 MHz
50 ohm input
Function Generators
The lab has 3 function generators.  1 Rigol DG4102 and 2 Rigol DG1022A
Rigol DG4102
2 channel
Maximum frequency of 100 MHz
500 MSa/s
Standard and arbitrary waveforms
AM, FM, ASK, FSK, PSK, PWM and other modulations
Rigol DG1022A
2 channel
Maximum frequency of 20 MHz
100 MSa/s
Standard and arbitrary waveforms
AM, PM, FM, FSK modulations