Mission Statement
CySat is a Make to Innovate (M:2:I) project dedicated to giving students the ability to apply the knowledge they gain in class to a real astronautics project. Students will be exposed to team based environment with many problem solving opportunities. They must adapt to various tasks and be able to utilize the right resources in order to satisfy a given objective. Though CySat is a multidisciplinary project, students can expect a heavy emphasis on the engineering side of industry work.
Team
Project Leader – Matthew Leehy
Faculty Advisor – Matthew Nelson
CySat consists of two teams:
Project Organization Chart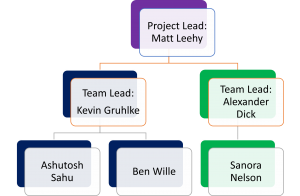 Team Photo
Goals
This semester, students are focusing on designing a novel mission for CySat-2.
Deliverables
Mission concept report
Concept of Operations outline
Preliminary CySat-2 CAD model